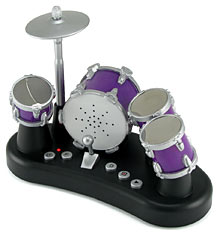 Since I've spent all my saved pennies on my most recent "toy" I'll have to refrain from getting this at least for now. This would be a great addition to my desk at work and I'm sure there are many who would visit just for a quick solo. There are also plenty of opportunities for a well-placed rim-shot, too.
Click on the image to the right to go to ThinkGeek. They even have a movie showing it in use.
Update:When I was young, I visited my grandparents house and discovered a drum set in the garage that used to be my uncle's. In the process of making a play for them, my uncle got a renewed interest in the hobby and decided to dust them off for himself. I remember being disappointed but I can't hold it against him. My parents saw this post and decided to order the Finger Drums for me which showed up last Friday. They're in my office at work. Not the same as a full set, but the do take up a lot less space. Thanks Mom & Dad!