I've been a long time listener to the Geek News Central podcast and to celebrate his recent 250th episode, he asked 10 listeners to call in for a very special gift box. Due to my ever-so-early 5:00 AM drive in to work, it wasn't hard for me to leave him a quick voicemail. I don't know if I was the first, but I was one of the ten as he announced my name the following episode.
Fast forward today and I was the happy recipient of quite a nice hand-crafted box of very thoughtful and Hawaii-oriented items: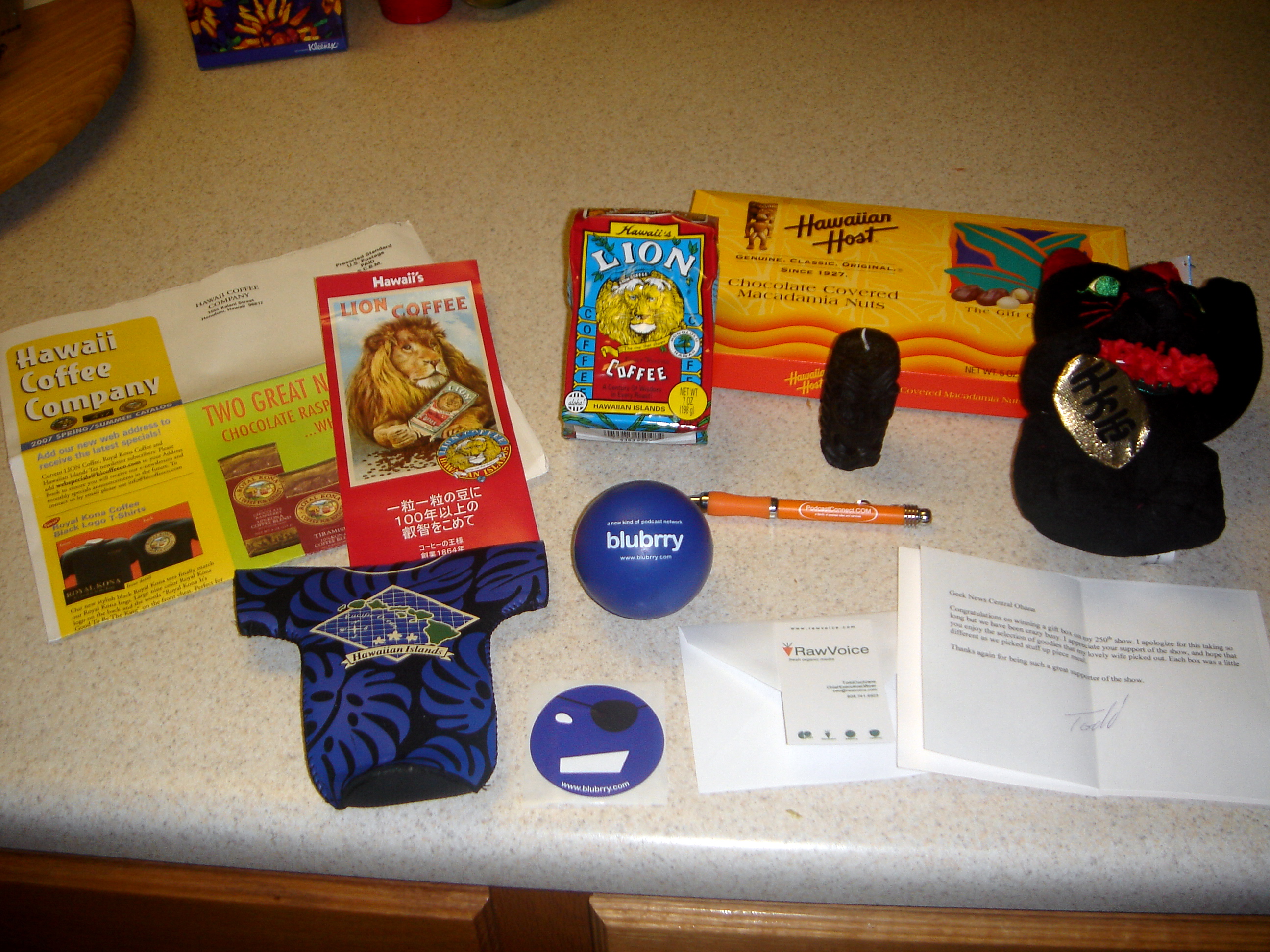 From left to right. Back row: Lion Coffee catalog and 7 oz of Fancy Roasted Coffee, Hawaiian Host Chocolate Covered Macadamia Nuts, a Tiki Candle ("Ku" the god of war), a good luck cat (inscription "Ten Million" for much wealth). Front row: Aloha Bottle Jacket, blubrry sticker and stress ball, a PodcastConnect.com pen, and a note card. Not pictured: A teak napkin holder.
The card reads:
Geek News Central Ohana

Congratulations on winning a gift box on my 250th show. I apologize for this taking so long but we have been crazy busy. I appreciate your support of the show, and hope that you enjoy the selection of goodies that my lovely wife picked out. Each box was a little different as we picked stuff up piece meal.

Thanks again for being such a great supporter of the show.

–Todd
It was a very generous gift and I really appreaciate the effort and expense. Give his show a listen, it really is a fun podcast.