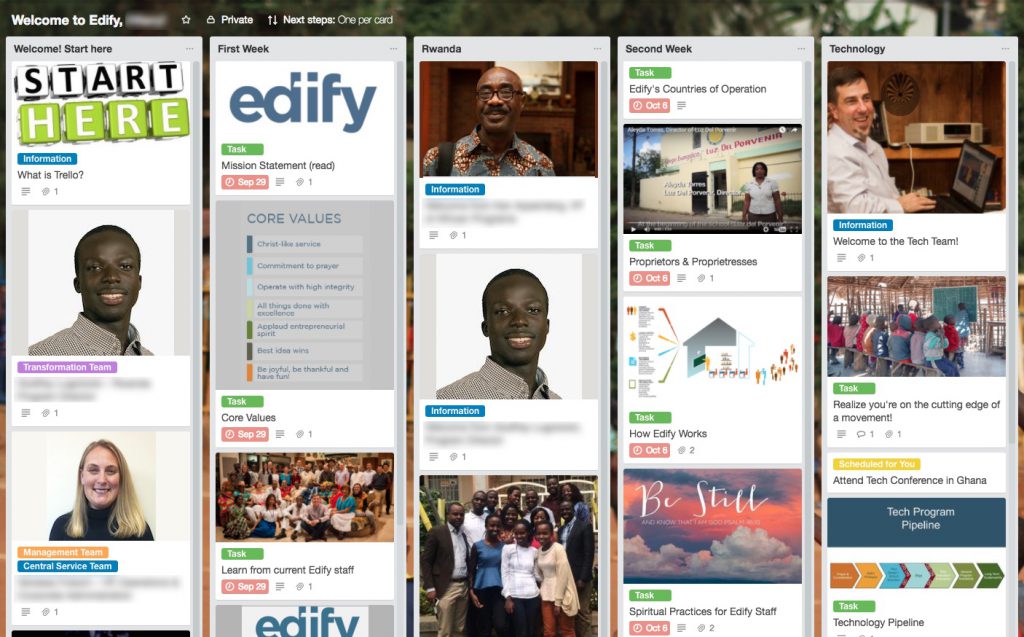 Working for a small, international, non-profit has many challenges. One of the biggest I've encountered is managing all the internal details involved in on-boarding employees and helping new staff get sufficiently oriented regardless of their location or technical competency. One tool I've been a fan of for years is Trello and, based on an idea they shared, a colleague and I got to work. The solution created has been in use for almost a year-and-a-half with over two dozen new employees brought onboard since that time.
When a new employee is slated to start, a workflow is kicked off using an internal Trello board shared by a few different people involved in the process. It represents a master checklist of steps that will be needed to complete the numerous necessary tasks. Some of the steps include:
Confirm that an offer was accepted
Confirm employee's contact info and title
Get a headshot and bio
Create email and other server accounts
Create orientation board and account
Send welcome email with getting started instructions
etc.
As an operations-minded person, myself, I like to standardize whenever possible. A multi-cultural organization, however, demands acknowledging and accounting for differences in culture. The balance I shoot for is 80/20: 80% standardized and 20% contextualized. We took that into account with our solution. The bulk of the board is the same for all staff and covers the baseline common to everyone. Things like our mission, vision, staff resources, and must-watch or must-read items. Folded into that are lists specific to the team they'll be joining as well as the country which they're located. All combined, it's proven to be a great resource. We also incorporate the feedback of each person that uses it so it can be improved in future iterations.
The best part is that it's a free service which is always a good thing when the goal is to apply every dollar possible towards our programs. Want to donate?